There are many beautiful and pretty
flower tattoos
designs available today.
Women find these tattoos very appealing and a sexy choice for a tattoo.
Different kinds of flowers
symbolize beauty and can have their own individual meanings. They can be used to express love, spirituality,purity and more.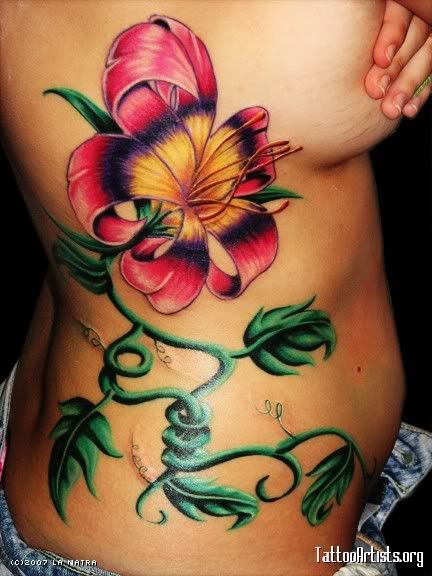 Flower Tattoo
Some meanings of flowers include: Bird of Paradise: flower of freedom,faithfulness. - Buttercup: humility, neatness, childishness.- Daisy: purity, innocence, loyal,love. - Daffodil: unrequited love, chivalry, sunshine. - Gardenia Flower: secret love, purity. - Fuchsia: intimacy. - Jasmine: happiness. Rhododendron: danger,beware and caution.- Peach blossom: Captivity.- Iris Flower: faith, wisdom, cherished friendship. - Morning glory: affection. - Tulip Flower: fame and perfect love. - Sunflower Flower: adoration. - Snapdragon Flower: graciousness and strength. - Rose Flower: love, remembrance, passion.- Poppy Flower: magic, fertility and eternal life. - Poinsettia: symbol of purity. - Orchid Flower: love, beauty, refinement. - Magnolia Flower: perseverance and love of nature. - Lotus Flower: estranged love and forgetfulness of the past. - Day Lily Flowers: forgetting your worries.